Teaching kids about money can be a real challenge, especially if you're not that great at money management yourself. I've researched some great pocket money apps for kids to get you started. Plus don't forget to use the KidStart app to get money back on your shopping!
1. Pigby's Fair
1. Pigby's Fair is Nat West Bank's  highly entertaining smartphone and tablet app produced and designed by the makers of Wallace and Gromit, Aardman Animations. The app stars money saving heroes, Pigby and Friends. The characters embark on adventures around an animated fairground where they are challenged to save or spend. The app, aimed at 4-6 year olds, is free to download here.
2. GoHenry website and app
The GoHenry website and app are designed to encourage money confidence in 8-18 year olds. Parents create an account for each of their children who then receive 'bank' cards in their own name. GoHenry recommends pocket money amounts according to the national average (if you are unsure) and the amount is automatically credited to your child's account every Saturday. GoHenry are currently running a one month free trial after which it costs £1.97 a month per account to run.
3.  iAllowance
iAllowance (Free) is a brilliant tool for tracking pocket money, chores and rewards. You can run multiple banks for different children, set up specific chores and rewards that run on a regular basis. The fabulous graphics include pie charts showing long term and short term saving progress. This version is free.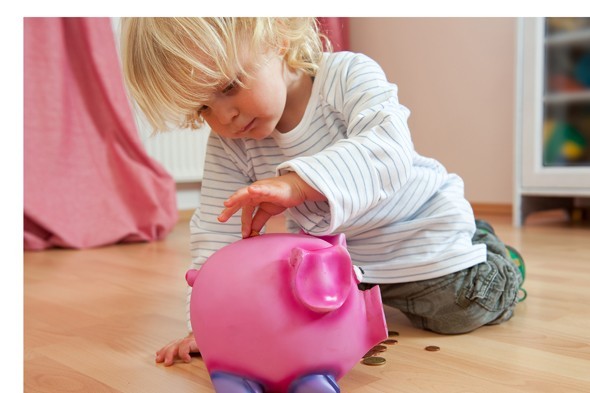 4. Kids Money Pocket Money Calculator
The Kids Money Pocket Money Calculator is a nice app with appealing graphics that allows your children to input a target saving amount. They fill in the details of how much pocket money they get and any extras they may receive and the app lets them know how close they are to being able to make their purchase. Simple and sweet.
5. RoosterMoney Pocket Money Tracker
The RoosterMoney Pocket Money Tracker allows parents to manage multiple kid's pocket money accounts while children get their own Pocket Money Dashboard online. Parents can boost pocket money for certain achievements and completed chores. The app also has a lovely feature where photos of that dream purchase can be uploaded into the saving target area. The basic app is free with in-app purchases available.

If you want to save even more, make sure you use KidStart when shopping online at your favourite shops and you'll earn money back for your little ones.
KidStart works with more than 1,300 retailers like John Lewis, Mothercare, eBay, British Airways, Amazon and many more. You only need to access the retailer you want to shop at from the KidStart site, and shop as normal. The retailers will then pay a percentage of your spending to KidStart as a thank you for giving them traffic, and KidStart top up it up to your kids' savings account. Learn more here.
Happy saving!