It can be overwhelming the number of products you feel you should buy for your new baby, especially as a first time parent. We have rounded up five essential baby products that we think are great value and quality.
All of these are available using
KidStart
which means you can get money back for your child's savings account, making these products even better.
So lets begin!
Joie Spin 360
The Joie Spin 360 is a combination car seat that allows your little one to travel rear-facing for longer (from birth to approx. 4 years). The seat will spin 360 degrees allowing you to change the seat position from rear to forward facing, as well as being able to face the door to make it easier when placing your child in and out of the seat.
Summer Infant Wide View 2 Baby Monitor
The Summer Infant Wide View 2 Baby Monitor includes Wide View Lens Technology, this enables parents to see much more of your baby's room with the wide-angle lens camera. Room temperature is shown on your monitor to keep you updated with everything going on in your baby's room. Not only this, but the sound activated LED light will allow you to "see" when there is noise coming from the room and features two-way communication.
Slumbersac sleeping bags
Are you looking for a baby sleeping bag? Slumbersac sleeping bags for babies ensure safe sleep and comfort for your child all night long. Made from the best quality materials, the beautifully soft and safe baby sleeping bags will help to make sure that your child gets the sleep they need to give them the best start in life. Paediatricians and midwives recommend the supine position (placing them on their back) for the safety of infants and advise that loose bedding should be avoided.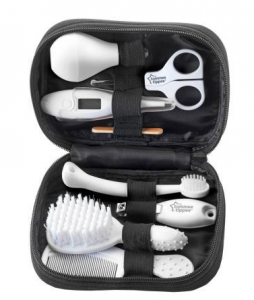 Tommee Tippee Closer to Nature Healthcare and Grooming Kit
The Healthcare Kit contains nine essential items in a handy pouch to help you groom and care for your baby from birth through to the early months, including a Nasal Aspirator and Digital Oral Thermometer to check baby's temperature, making this a must have purchase for any parent.
Sleepyhead
The Sleepyhead is the ideal mattress for a good night's sleep for your baby (suitable for ages 0-8 months), it's portable and lightweight making it perfect for nights away. The pod is multifunctional, multitasking and offers a safe and comfy spot that lets baby sleep, rest, co-sleep, lounge, play, cuddle, do tummy time and get diaper changes. Additional covers are available to suit your style, mood and decor.
Related Articles
https://www.kidstart.co.uk/blog/what-to-pack-in-your-hospital-bag/