Hands up if you're looking forward to the new school term? The team of parents behind 5 Minute Fun say they've loved having family time, but now they're ready for uniforms, lunchboxes – even homework – because it means everyone can get back into a routine.
5 Minute Fun is a website for parents that's full of fast, fun and free ideas to keep kids busy – so you get 5 minutes for you. They've given us these activities to help ease children back into the classroom.
Tidy house, tidy mind
This clever craft clears away clutter as well as giving your kids a special place to keep their new school supplies. Make now and whip out whenever they have homework.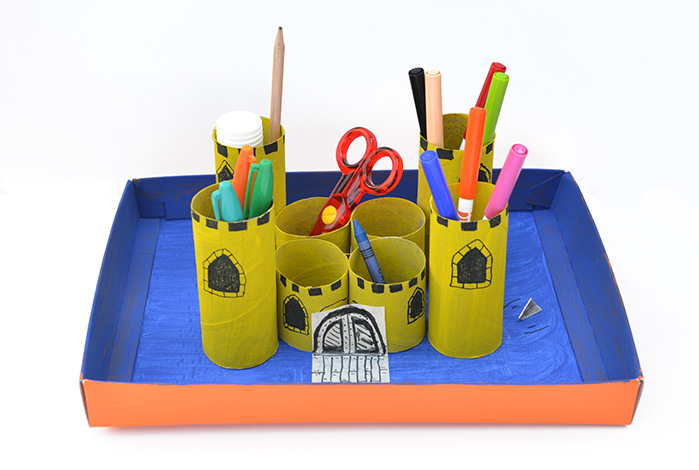 You'll need: 6 toilet roll tubes, a shoebox lid, masking tape, paint and a black felt tip
What to do:
Cut two of the toilet roll tubes in half. Now, your kids can arrange all of the tubes in the shape of a castle and secure together using masking tape.
Get out the paints! Ask your children to make the castle a royal colour of their choice, and to paint the inside of the lid blue to make a moat or green to create grass.
Once everything's dry, your child can glue the tubes on top of the shoebox. Then, they draw windows and other details with the black felt tip.
Fill with stationery and await their first homework assignment.
Find more crafty ways to clear up on www.5minutefun.com
Lunch Box Wins
Make lunchbox prep a group activity by involving your kids. This nutritious sandwich and snack taste as good as they look, so they won't be returned in a sweaty lunchbox at the end of the day.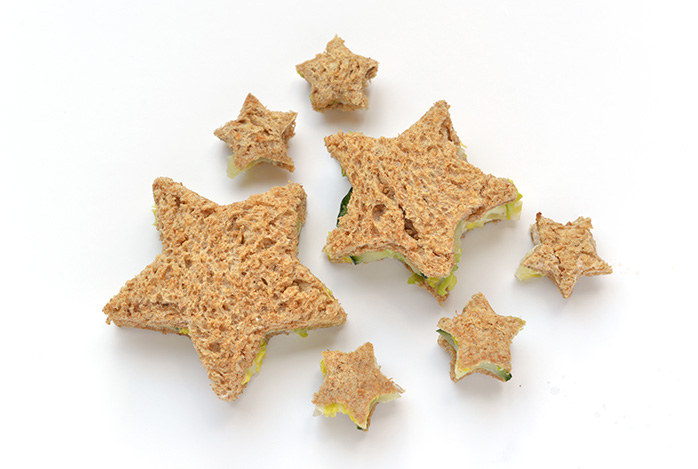 You'll need: wholemeal bread, sandwich fillings (e.g. turkey slices and/or soft cheese, cucumber slices, shredded lettuce) and biscuit cutters
What to do:
Make the sandwich and then press down with the biscuit cutter to make it into fun shapes – simple!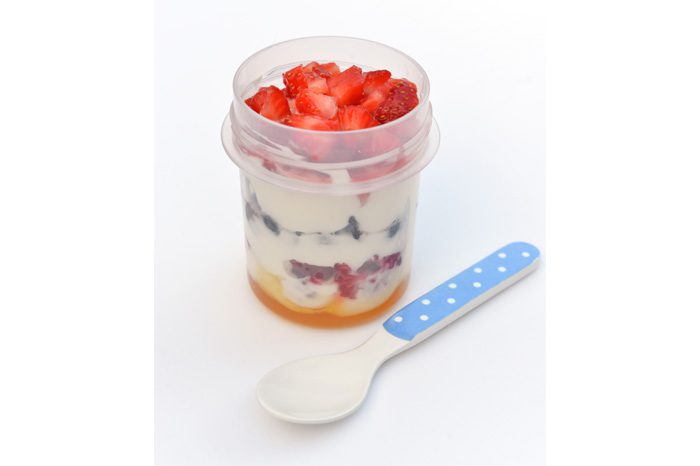 You'll need: sugar-free or natural yogurt, strawberries, raspberries, blueberries
What to do:
Remove stem from strawberries and finely chop all the berries.
Place with yogurt in a sealed container. If you're using natural yogurt, it might be nice to add half a teaspoon of honey.
Find more healthy meals and snacks your child will wolf down at www.5minutefun.com
Make learning fun
Get a gold star and help your kids recap on subjects ahead of school. This idea, based on CBeebies Numberblocks, is a fun way to introduce maths.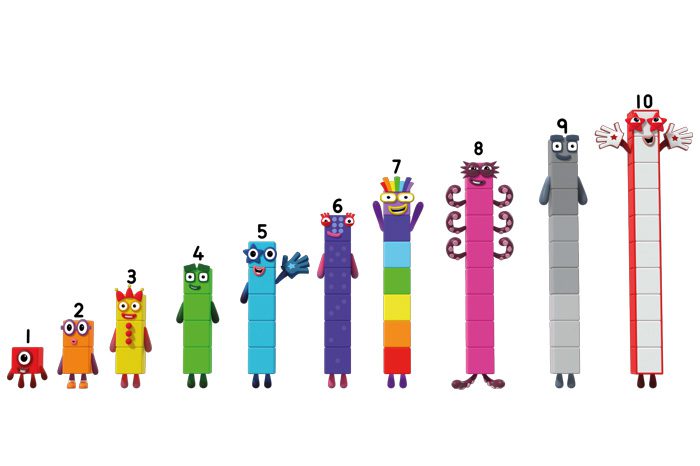 What to do:
Look at Numberblock 4. Can your child count his blocks? What shape is he? Tell them, wherever there is a square there is the number 4.
Now go on a number hunt. Can your child find the number 4? Can they look on a remote control, on a keyboard, how about house numbers or car number plates?
Next, look for squares – they might see a window, a dice, a cushion, a cracker or a frame. Ask your child to count 4 sides on each square they find. Now, repeat with a new number like 3.
Find lots more to learn on www.5minutefun.com
Numberblocks blocks and the Alphablocks Reading Programme are available to buy from the 5 Minute Fun shop
Build your child's confidence
At home, they're Superman or Wonder Woman, centre-stage, demanding your attention – but ask your kids to speak in front of their class and they just clam up. It might seem inevitable (hands up if you hate public speaking) but did you know you can help your kids feel confident with this cool trick?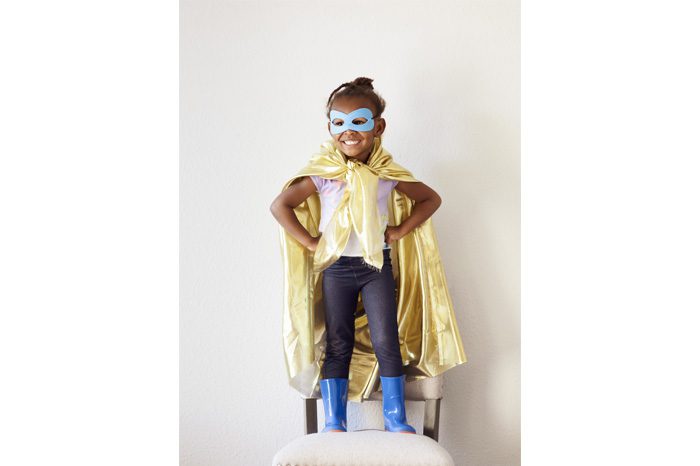 What you'll need: Superhero arms
What to do:
Challenge your child to stand in a powerful superhero pose. Can they plant their feet apart, flex their muscles, put their hands on their hips, pretend to fly…
Confidence tip: Doing this makes you feel physically strong. If your child's having a wobble about stepping into their new school, help them find their superhero power outside the school gate. Then they'll be ready for anything.
Find more confidence tips on www.5minutefun.com.
Craft a pal to take to school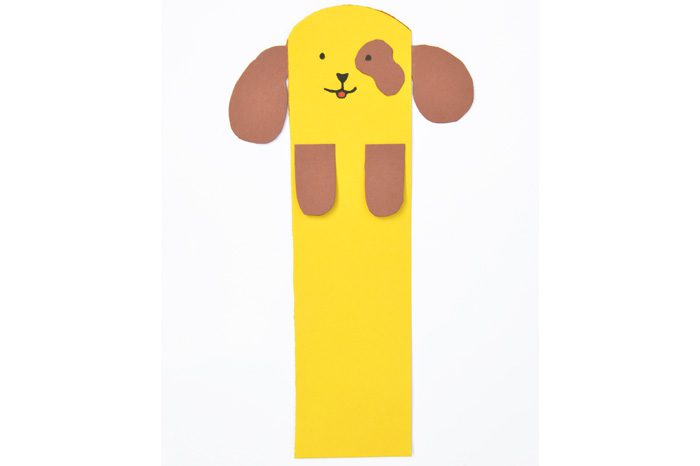 What better way to feel happy in the classroom than to take a friend you made at home? This puppy bookmark does the job, and he's useful, too.
You'll need: white paper, brown paper, black and pink felt tips, scissors, glue
What to do:
Help your child to cut these shapes from the different coloured paper.
Now, your child can stick on the brown ears and patch. Then add the paws, making sure to stick the flat edge of the paws only so they can slot over a book page
Finally, they draw on a face in black pen, and a pink tongue! Pack into their school bag ready for their first day.
Find lots more fast, fun and free activities for kids (that give you more time for you!) at 5 Minute Fun.