The thought of letting your kids loose on your windows and walls with markers probably fills you with fear. It did us in the KidStart office too. However, you don't need to worry if you've got the Chalkola Chalk Markers.
We were sent a pack of these for our testers (pictured) to go wild with, and they didn't hold back. The chalk markers took a couple of minutes to get working as you have to shake them and press them up and down but once they did there were no issues with them drying up, the ink flowed consistently and they worked great for us on glass, as you can see. The chunky size made them easy for the girls to hold and use, they had a nice design on them and they came in a wide range of bright and fun colours, which they absolutely loved.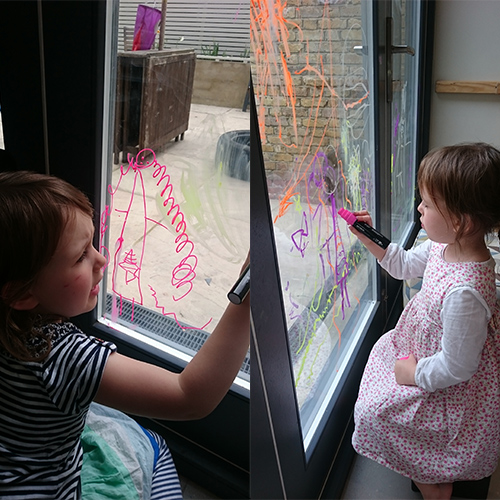 They are best used on non-porous walls, windows, mirrors, blackboards and whiteboards and wipe clean easily. They don't wash out of materials so make sure your kids wear aprons or clothes you don't mind getting stained and keeping them away from curtains, sofas and carpets whilst in use, is advisable too! We think it's a great way to spend an afternoon whilst letting your children be creative without having mountains of paper to clean up afterwards, all you need is a wet cloth to clean any marked surfaces and that's all the mess gone. The girls gave them and 5/5 and we loved them too, once these have run out we will be ordering more!
You can get your hands on these fab Chalkola Chalk Markers from Amazon in packs of 15 and 21 where you'll also get 2% KidStart Savings.
There's also a 15% Off coupon code for you to use on these markers valid on both the Chalkola and Amazon websites: 15OFFSTR
Related Post
https://www.kidstart.co.uk/blog/national-childrens-day-2017/