Looking for fun things to do with the kids this half term? Get crafty – arts and crafts is a great way to keep them busy and get their imaginations whirring.
Half term is upon us again, so it's a good time to stock up on pens, paper, paints and other bits and pieces for an arty-crafty week with the kids. We've put together our top five children's arts and crafts so you can get creative!
Make your own minion
If your kids are fans of Despicable Me, why not make your own minions? These characters are so cute and adorable, and you can create your own characters just by recycling a bit of scrap from your home. 
See how to make them here
. You will need: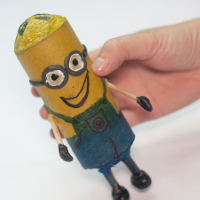 – A pencil
– A used aluminium foil roll
– Sheets of newspaper
– Craft Glue
– Water
– Paints
– M-seal / milliput
– Toothpicks / disposable chopsticks
Buy all these at
Hobbycraft
and get up to 6.5%% back for your kids, plus check out their half terms deals with 50% off.
Make your own lightsaber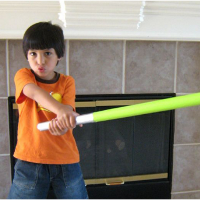 Who hasn't wanted their own lightsaber at some point? Follow
these
simple instructions and the Force will be with you. You'll just need:
– A torch with batteries
– Some cellophane, white paper and sellotape.
Buy all these at
B&Q
and get up to 2% back for your kids.
Wine cork boats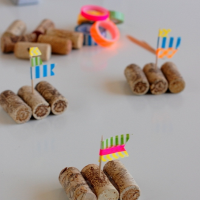 You'll never throw away wine corks again! These boats are
so easy to do
and your kids will have lots of fun caring them on streams – or even the bath! To make them you'll need:
– wine corks
– Cellotape (pick nice colours!)
– Toothsticks
– Low temperature hot glue gun
– A Nail
– A hammer
Buy your wine at
Waitrose Cellar
, your tools at
Homebase
and your cellotape at
HobbyCraft
and get up to 7% back for your kids.
Make a homemade kite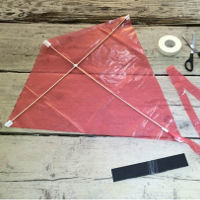 It's surprisingly
simple to
make
and just a few items are needed! Here's what you'll need:
– A plastic bag, the heavier the better – the ones used for garden rubish are great.
– Electrical tape.
– Two lengths of thin hardwood dowel.
– Some knitting yarn or strong synthetic thread, such as a fishing line.
– A piece of wood or cardboard for the winder.
Buy all these on
Amazon
and get 2% back for your kids
Make a plane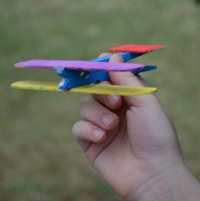 Great fun for everyone, both while making the planes and playing with them! You'll need just 4 items. See how to make them
here.
– 3 craft sticks
– 1 clothespeg
– Paint
– Glue
Stock up on crafting kit with
The Works
and get 10% back for your kids. Plus check out their half term half price deals.
Check out our ideas to boost your kids savings
.
Lightsaver photo: nouveausoccermom.com