Tummy2Mummy blogger Marie gives us her tips on saving money, making extra money and being careful financially when on maternity leave.
Often we get so excited about the upcoming time off work we have, that we forget about the financial implications or the small factor of having to actually birth a tiny human. I'm not sure what's more painful – the birth or living on statutory maternity pay? Here are some maternity leave money tips which may be useful….
Pyramid selling schemes – beware
We all get the 'Do you want to work from home and make an extra £2000 a month..?' messages from people selling products. Whether it's a diet plan, jewllery or skin products – they all have their own targets to recruit people so will try to persuade you by huge tempting offers.
I have over 30 generic messages in my inbox telling me how they love my profile and I'll be great for their fitness brand. My Instagram pictures are mainly of my baby girl Jasmine, food and wine, so I'm probably not so 'great for your brand'. My advice would be – if it seems too good to be true, it probably is. No one would make thousands a month simply by sitting on their phones. I'm sure people do make big bucks somewhere up the pyramid but more often than not you may end up paying for products if you don't hit targets.
If it's a product you are genuinely passionate about – go for it! You won't have a problem selling something you truly believe is amazing. If however you don't love the product, chances are you won't be able to convince others to buy it. Just be aware that they are looking for people who are drawn in by money and the opportunity to work from home – mums!
Do a weekly food shop online
I received a voucher for £18.00 off my first online shop so check on their websites if they do that. When in the supermarket, I'm drawn in by any kind of fancy packaging stacked on the end aisle – plus if it's got any form of offer on it's in my basket. Plan meals, make a list, go online and order it. Delivery is as cheap as £1.00. Plus the supermarket normally show you 'offers' online so don't worry about missing out. Also, never shop hungry. I've made this mistake many times. Before I know it I'm up to my eyeballs in tapas for 15 people that's goes out of date by the next day, plus baby bells, fancy crisps, normal crisps, baked crisps, vegetable crisps, crisps that don't look like crisps, I think you get the idea.
Remember to use KidStart too, you can shop with Sainsbury's and earn savings for your little one on every order.
Loose change in a pot
Not just 1ps and 2ps (although if that's all you can afford to put in then do!). ANY change you have, put in a pot at the end of every day. You'll forget about it. My other half and I paid for a trip to Disneyland Paris with the loose change we saved over a year. It can be done and you'll be surprised.
Also look in old bags, coats, purses and pop all that change in it!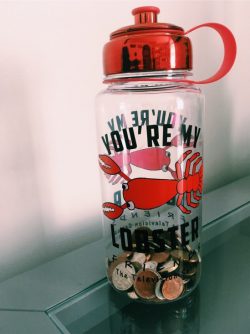 Child savings account
If you can, get a children's savings account, I have a Junior ISA for Jasmine. Instead of being consumed with gifts for birthdays and Christmases ask for money for their savings – they'll thank you one day. The interest rate on children's savings accounts are usually much higher especially if money can't be withdrawn for x amount of time. Your child's savings can also be topped up by money you earn through Kidstart when shopping online.
Sell stuff
There are lots of online sites you can sell stuff on now – clothes, toys, baby stuff, and furniture – clean it up and sell it. Alternatively you could do a car boot or get the kids to run a garage sale. There are also fabric banks now which take all your old clothes and give you money based on weight. But be warned, this won't be your windfall, I wanted to get rid of a bunch of clothes I no longer wore so took it to a lady who gave me £7.00 for about three bags! We didn't go to Paris that year.
Back away from the internet!
Yes, it's so tempting when you have a small human to buy them lots of things they don't really need. I've googled 'baby sailor outfit' at 3am. I ended up with a fish costume from the little mermaid… And yes, all the guests to Jasmine's impending christening will receive a pack of love hearts with her face on it.
Here's the tip – put all the items you want in your basket, go back in 12 hours and remove all those you don't need. The bonus here is that when you leave items in a basket you often get an email after a while to offer you discount if you buy the order. You're welcome.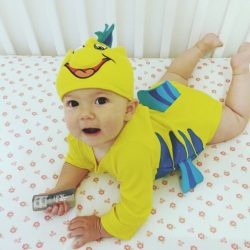 Speaking of discounts…
Google 'discount code for *company name*' more often than not you'll find 15% off here and there or other offers that you can apply at the checkout. Worth the extra 2 minutes.
Finally, check your direct debits going out
Could you get cheaper? If you can – then switch. Check your TV package, insurance, phone? I called up my phone provider once and said I thought I was paying too much, they took off £10 a month. Same phone, contract just took it off the monthly cost, always worth a try!
Equally change your bank account for extra money. It's so easy and hassle free as they sort all your standing orders for you.
If you loved this article check out another post written by Marie – Things I've learnt since becoming a parent