The World Health Organisation is campaigning "Save lives: Clean your hands". It's the perfect time to start new routines and habits, so why not teach your little ones a thorough hand washing routine?
Squid Soap, the innovative, gentle children's soap teaches tots to wash their hands properly in a fun and interactive way, it even comes with a colourful squid toy. By simply pushing down on the dispenser, a washable stamp is stamped on their hand, which children can wash off with the gentle, creamy lather, to clean their hands thoroughly.
Top tips for hand hygiene
Experts in fun and effective hygiene, here are
Squid Soap's
top hand washing tips:
–   Make the whole routine as fun as possible so kids look forward to washing their hands, Squid Soap's fun design and stamp colours create a fun and interactive experience which will encourage children to include handwashing in their bathroom routine.
–   Did you know it takes 20 seconds to wash hands properly? Encourage children to wash their hands for the right amount of time with Squid Soap.
–   Make sure that little ones have enough soap on their hands to create a creamy lather – this will help encourage proper handwashing routines, Squid Soaps luxurious lather is perfect for this, one push down on the dispenser produces a 50 pence piece sized amount of soap, which is just right.
–   Water, water, water! Ensure that tots use plenty of water when washing their hands so the soap is completely removed
–   The most effective handwashing technique is by rubbing palms together, guide little ones to press their hands down on the Squid Soap dispenser in the middle of their palm so they rub them together to remove the stamp
–   Thorough drying is also very important – invest in a towel with a fun pattern so kids enjoy thoroughly drying their hands*
Vital statistics
Squid Soap has an RRP
: £1.99 and is available from Tesco, Superdrug and many more. Washing with 20 seconds with
Squid Soap
will also prevent the spread of Salmonella, MRSA and Campylobacter which causes food poisoning.
Squid Soap
is specially made for little hands, and it is PH neutral and contains no nasties.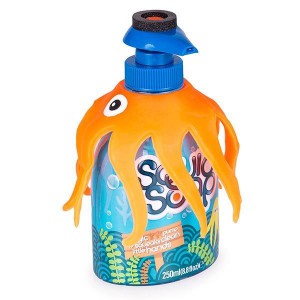 *Source http://www.wash-hands.com/hand_hygiene_and_you/how_to_wash_your_hands
KidStart helping parents save for thier children's future.