The Century of Tea collection
It's been over a century in the making and today we're proud to present our collection of 100 new teas sourced from all across the globe. From unusual single estate teas to some seriously inventive blends, you might be surprised by what you find. Anyone for a 
cucumber infusion
? A world-famous 
Darjeeling
? Or perhaps our award-winning 
Choco-Rooibos
?
"Headlined by 67 exclusive Whittard blends, the Century presents a tantalising array of black, white, oolong, yellow and puerh teas, as well as all sorts of fruit and herbal infusions. At the heart of the collection, you'll find our Signature Teas, an essential selection of famous worldwide tastes and our very own creations." – Mark Dunhill, Whittard of Chelsea CEO
Our black tea collection turns the tables on typical British tea drinking with extraordinary single origin varieties including Ceylon, Darjeeling and Assam, as well as a several of our very own blends. Why not start with a rich and plummy 
Keemun
 for breakfast, move on to a nuanced 
Nilgiri
tea mid-morning, and get a little extravagant with our 
Vanilla Sundae
 blend after lunch. For the afternoon? Our 
Afternoon Blend
 of black, green and oolong tea is a classic, but we'd suggest you try our Robert Fortune Blend if you're in the mood for a story. Who was
Robert
? Well, that would be telling…
Green tea has generated a bit of a buzz as a health drink over the last few years, but few people know how varied the taste can really be. We've selected the best teas grown in China and Japan and created our own flavoured and scented blends. Green tea purists will love our smooth, sweet 
Sencha
, and health nuts should try our 
Genmaicha
 – the famous Japanese popcorn tea. The cherry on top? Our 
Petit Macaron
 blend of black and green tea, known as the Marie Antoinette of our collection. Let them eat cake! And drink tea, obviously.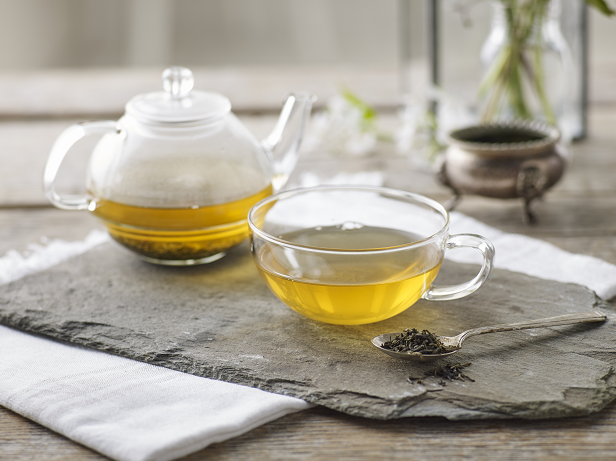 If you're looking to expand your tastes, you might like to try our world-class range of teas specifically selected from renowned estates and those with more unusual origins and processing techniques. Connoisseurs will head straight for our rare 
yellow tea
, and our single estate varieties include a selection of 
Darjeelings
, renowned 
Kenilworth Ceylon
 and even an extraordinary 
New Zealand oolong
. We've also created a number of innovative blends to suit the taste profile of each tea type. Ever heard of a white tea Earl Grey? It's…
Extravagant
.
Our fruit and herbal infusions include some of the most exciting tastes in our range and they're also rather a beauty to behold… Alongside herbal classics like 
Camomile
 and 
Peppermint
, you'll find inventive blends bringing together ingredients from all across the world. Our 2015 Great Taste Award winning 
Choco-Rooibos
 is the herbal equivalent of hot chocolate, and our 
Cucumber Mint infusion
is gloriously refreshing. The winner of the tea beauty pageant? We'd say 
Herbal Chai
, with its pom-poms of golden camomile, sweet star anise and pretty pink rose petals.