Wouldn't it be great if there was a company that gifted a pair of shoes to someone in need for each pair sold? Well, there is! TOMS® is a company founded by Blake Mycoskie, a Texas born entrepreneur with a passion for making tomorrow better.
Back in 2006, while travelling around Argentina, he witnessed the hardships faced by children growing up without shoes. This prompted him to create TOMS, a company that evolved into a global movement and has so far provided 60 million pairs of shoes to children since 2006.  Since then, TOMS Eyewear and TOMS Bags were launched, with every pair of glasses purchased, TOMS help give sight to a person in need. With every TOMS Bag purchased, TOMS will help provide a safe birth for a mother and baby in need as well as helping stop bullying, one youth at a time. One for One™.
But it doesn't just stop there, the company is incredibly committed to improve the lives of those less fortunate by joining forces with Giving Partners (leading non-profit organisations around the world) that can support other aspects of people's lives, like health, education and overall wellbeing. It may all have started with shoes, but so far, TOMS have improved access to water in many developing countries as well as helped provide safe birth and restore eye sight to those in need. When you support companies like TOMS whose purpose go beyond sales and commit to making the world a better place, you know for certain that by wearing a pair of TOMS, be it shoes or glasses, you are contributing to the greater good and most importantly you are helping others. With every product you purchase, TOMS will help a person in need. One for One™.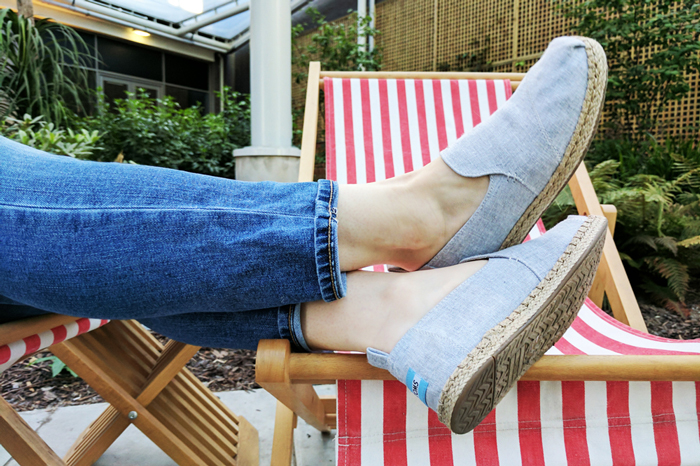 Their shoes are also one of the most comfortable pairs I own. Before trying on their deconstructed alpargata for the first time I assumed they'd be as flat as all the other alpargatas I'd ever tried, but I was pleasantly surprised to discover they feature soft, cushioned soles that turn this shoe into the most comfortable alpargata I've ever worn. If they seem a bit tight the first times you wear them that is completely normal. These shoes are known to mould to your foot creating an even more custom fit. Their light and breathable canvas upper make them the best choice for summer. With every product you purchase, TOMS will help a person in need TOMS will match every pair of shoes purchased with a pair of new shoes given to a child in need. One for One™. In addition to the alpargata-inspired classics, TOMS offers a variety of footwear styles for men, women and kids. From everyday men's shoes like Paseos to fun and flirty Strappy Wedges, TOMS are passionate about both the fashion and compassion they offer. TOMS eyewear is inspired by iconic and vintage style, from wayfarer-inspired classics to pilot frames to historic oversized lenses, and every purchase provides customers the opportunity to restore sight to a person in need. TOMS have already given 35 million pairs of shoes to children in need, teaching 35 million lessons. 250,000 have had their sight restored through purchases of TOMS Eyewear since 2011
Thinking of snapping up pairs for the whole family? Get 6.5% KidStart Savings this week (usually 4%) at TOMS.