To help make reading enjoyable and fun we surveyed the KidStart team about what they love most about reading to their little ones.
Here are our 10 tips to help your children enjoy reading:
1. Make books part of family life

Hhave books around the home so you can pick up a book and read with your child whenever there is a chance to read together.
2. Join your local library

Get your family a library card and visit allowing the children to pick their own books, encouraging their interests.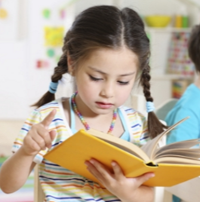 3. Reading for pleasure

Take time out and read a book too!  Let the children see you enjoying a book and they will want to copy you.  Make reading time a treat whether it is reading together or on your own.
4. Explore Interests

Visit The Book People (get up to 5% back for your kids) or Amazon (2% back) and purchase books that will spark your child's imagination and interests.
5. All reading is great

Don't discount non-fiction, comics, magazines and leaflets.  All reading is good and inspires young readers.
6. Get comfortable

Snuggle up somewhere warm and cosy with your little one, whether it is in bed, on a beanbag or the sofa, make sure it is relaxing and the television and devices are turned off. Great floor cushions are fun from John Lewis (and get 1.5% back for your kids on all purchases)
7. Ask questions

Keep your child interested in the story by regularly asking questions such as, "What do you think will happen next?" "What colour is that?" "Can you remember what happens next?"
8. Read again and again

Encourage your child to re-read favourite books together. Getting to know a story together builds up fluency, vocabulary and confidence.
9. Play with rhymes and sound

Story books that include rhyme and repetition are a fun way to encourage your child to join in the story, why not try Julia Donaldson's Room on a Broom for children under 5 years.
10. Make bedtime stories a regular feature

Reading together regularly is proven to improve literacy but it also a great way to end the day and spend valuable time together with your child that will create a lifetime of memories for both of you.
Get your books at
Waterstones
,
Foyles
or
The Book People
and get up to 5% back for your kids.
Do your kids like to read?