As the Back to School madness sets in, it can be hard to figure what school shoes, or better yet, what Kicks, are going to be best for their feet! We've teamed up with Kickers, who pride themselves on being the School Shoe experts, so why not sit back, grab a cuppa, and read through their handy top tips to buying the perfect pair of school shoes!
Before getting started, we always recommend to check the school policy before buying their school shoes. Some schools may be stricter than others and not allow more 'trainer-style' shoes, others may have conditions on colours and accessories, so it's wise to check before you buy. But don't worry, Kickers have you covered – we stock a range of different school shoes from fashionable boots to classically cool Kicks.
1. Think about what style suits your child best?
At Kickers we celebrate individuality and know how important it is to find the right shoe to suit your child's personality and interests. For example, if they tend to put their shoes through their paces – kicking a ball, running and jumping around the playground – you should look at Kickers durable range for boys. Styles including our Kick Mid Scuff, Kick Lo Scuff and Trukka Lo are definitely up for the challenge, they have durable chunky soles which won't wear down easily and are scuff-resistant to keep them looking smart.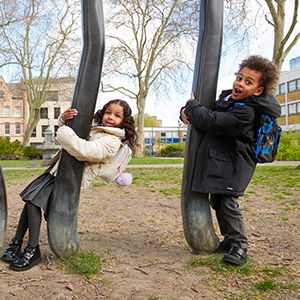 For the girls, it would be worth choosing a Brogue style, which have a durable 360 outsole designed to give extra protection to the toe and heel to prevent any unnecessary scuffing and are tough enough to take on any playground game! If you are looking for something with a bit more of a statement, our Platinum Loved By Parents Award winning Kick Hi Zip comes in various shapes and sizes for both girls and boys.
2. Choose the right size
This is important – your child is going to be wearing their shoes for six or seven hours a day, it's essential that their school shoes fit them properly and are comfortable too. At Kickers we take the stress out of school shoe shopping by offering an easy, at home guide for sizing. We have a simple to use three step guide to finding the right school shoes for your children, which can be done in the comfort of your own home without any specialised equipment – the Kickers online sizing tool does it all for you!
But don't worry if you don't get it right first time, because we offer fuss-free delivery, returns and exchanges on anything purchased from kickers.co.uk
3. What are the best materials for my children's shoes?
The best quality materials deliver premium performance, so it's important for school shoes to be made from a premium leather, which moulds to the foot for a perfect fit. All Kickers school shoes have active technology that keeps bacteria away for fresher feet. It's imperative that school shoes are tough on the outside but super comfy on the inside, and that's why all our shoes have a cushioned footbed and padded heel collar to keep busy feet from aching after an active day! Some of our school styles also feature reflective materials which provide that added level of safety meaning they are visible in low light – which is important as we move into autumn/winter.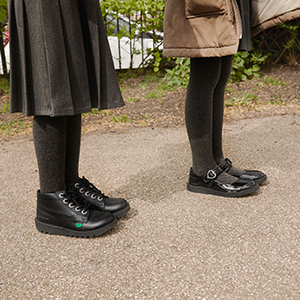 4. Laces or not?
This really does depend on your child and whether they have mastered laces or not. But it's also worth thinking about time – do you have time for your child to tie laces in the mornings and are they able to retie them after PE or if they come undone in the playground? Many of our Kickers' styles have hook and loop fastenings for easy on/off such as Kick Mid Scuff and Bridie Brogue. Kickers have also introduced side zips into their Kick Hi styles and false buckles (which use a hook and loop fastening) for easy on/off in their Adlar Heart styles – making everyone's life a little easier!
The most important thing when looking for school shoes is that your little one is happy and comfortable wearing them. So don't be afraid to get them involved in the choosing process, safe in the knowledge that Kickers have built shoes that not only last but are packed full of technologies – ensuring the best fit, comfort and safety for growing feet.
To earn 5% back with KidStart, make sure you click through from the Kickers retailer page on the KidStart website before making any purchases.