World Book Day is a celebration on the 1st March 2018 of authors, illustrators, books and of reading. In fact, it's the biggest celebration of its kind, designated by UNESCO to encourage children to explore the pleasure of reading books.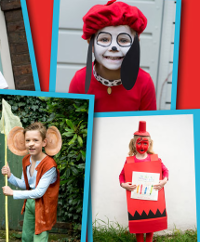 If you are a parent of a nursery or primary school aged child, as much as we love the idea of World Book Day the thought of creating a costume of your child's favourite story book character to celebrate the big event leave mums in a cold sweat.
So if you need a little inspiration the KidStart team have put together some fun ideas for you. Whether you take a do-it-yourself approach or purchase a costume online we have got ideas we know you and your child will love.
COSTUME IDEAS
Aliens Love Underpants
Burglar Bill (blue and white stripes)
Cat in the Hat
Charlie Bucket
Charlie Bucket
Curious George
Dennis the Menace (red and black stripes)
Dinosaurs Love Underpants
Dr Seuss
Evil Queen
Fairy
Fantastic Mr Fox
Funny Bones
Gansta Granny
Goldie Locks & Baby Bear
Gruffalo
Hairy Maclary from Donaldson's Dairy
Harry Potter
Horrid Henry (blue and yellow stripes)
Hunger Games
Iggy Peck Architect & Rosie Revere Engineer
Knights and Princesses (could be Narnia or any of the many stories about knights or princesses)
Ladybird
Lion, Witch & Wardrobe
Little Miss and Mr Men Costumes
Little Red Riding Hood
Lorax and Thing 1 and Thing 2
Maisy
Mary Poppins
Mog
Paddington Bear
Peter Pan & Tinker Bell
Peter Rabbit
Pippi Longstocking
Pirate Costume
Stick Man
Tabby McTat
Through the Looking Glass – Alice in Wonderland, Cheshire Cat, White Rabbit, Queen of Hearts, Mad Hatter
Tiger Who Came to Tea
Veruca Salt
Very Hungry Caterpillar
Where the Wild Things Are
Where's Wally (red and white stripes)
Willy Wonka
Wimpy Kid
Witch from Room on a Broom
RAID THE DRESSING UP BOX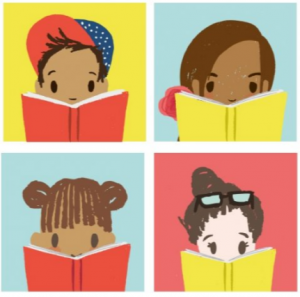 For a simple solution why not raid the dressing box and see what you find. Last year's Halloween skeleton costume can become a Funnybones costume, a witch can be turned into the Worst Witch, ballet clothes can become Angelina Ballerina, princess costumes can be turned into many characters, a cape and underpants can become Captain Underpants. Mix it up and have fun.  Sometimes the simple is best. Have a striped t-shirt? It can turn your child into Burglar Bill, Dennis the Menace, Horrid Henry or Where's Wally.
Add a new twist to an old favourite costume and visit Hobbycraft (up to 7% KidStart savings) and purchase face paint and accessories.
SHOP ONLINE
Short on time?  Why not do a spot of shopping online where there are so many choices sure to please even the most discerning child. Party Pieces (8% back) and Hobbycraft (up to 7%) special World Book Day sections. We love the Fantastic Mr Fox and animal costumes – perhaps The Tiger Who Came to Tea? Tesco F&F (up to 6%) Amazon  (2% back) also has great choices in sizes that will suit all ages.
GET CRAFTING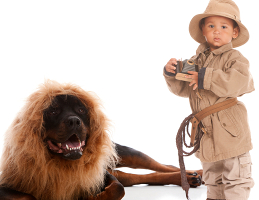 Pinterest has fantastic ideas for World Book Day costumes that can be made from glue and paper to the most incredible designs.  Stock up on coloured paper, glue, felt, fabric from Ebay (15% back on eBay revenue) or Homecrafts (up to 5%). We love crafting animal ears and tails that are fun to make and fuel the imagination. If you want a hand crafted costume but don't want to pick up a needle and thread why not visit Etsy (up to 5%) where you can find brilliant costumes from £5.
What will your little ones be dressing up as?
Images from worldbookday.com