To celebrate Pandora's 50% sale KidStart set out to find some personal stories to inspire you when choosing sentimental jewellery.
Choosing sentimental jewellery can be difficult. We asked different people to describe what their Pandora bracelets and charms mean to them.
In our previous
Jewellery and You: How to make the right decision?
article we described the basic criteria you should base your decision on when buying. However, there are such criteria as sentimental value and beauty which sometimes might only have meaning to you and the recipient of the gift.
Jewellery to celebrate family togetherness
"My bracelet is about my family and everything that is important to me. I was adopted as a baby and found out when I was 21. I felt like my life was a puzzle and was missing an important piece, my birth mum. I really wanted to find the missing puzzle piece and complete my puzzle. I was able to find my entire birth family. My favourite charm is the blue puzzle piece, that my birth mum sent me to complete my "puzzle." I share the love of Pandora with my mum and my two beautiful daughters."
Jewellery to mark special occasions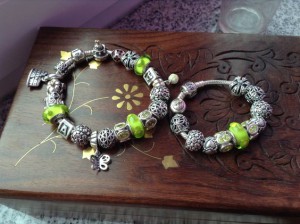 "This is 'My Mother and Daughter' inspired Pandora bracelets. My daughter is one year old and the first thing she goes and gets in the morning when she wakes up is her Pandora bracelet. I received mine as a gift, after giving birth to her. I knew then, that I had to start her one. My daughter's godparents brought hers for her first birthday. As you can see both are almost full so it's time to start bracelet number two. We love Pandora"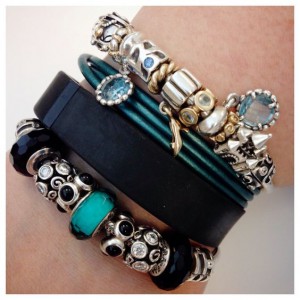 Jewellery just because you love each other
"My fiancé surprised me with the gold charms for my fairy tale themed PANDORA bracelet. I've paired it with my teal and black bracelets, and Fitbit flex to ensure a magical workday at Disney."
Treat a loved one, or yourself, today!
As the owners of the Pandora jewellery describe above, they have a very personal and sentimental relationship with their jewellery. It's often closely related to the person that gifted them that piece of jewellery, or a memory of a place, person or time in their life.
So why not treat yourself or loved one to Pandora today and enjoy the memories.
Pandora understand the bond between mother and child. We love this experiment they did to demonstrate the uniqueness of this special bond – to see if children could pick their mummies out of a line-up by touch alone.
---