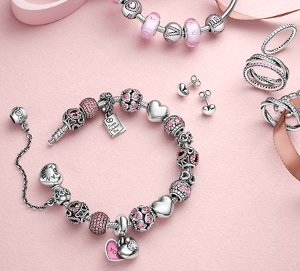 Pandora is world-renowned for its high quality and hand-finished jewellery at affordable prices.
Pandora designs, manufactures and markets modern jewellery made from genuine materials. Celebrate your unforgettable moments with silver, gold & diamond bracelets, charms, rings, necklaces & earrings.
Pandora use a variety of gemstones, stones and cultured pearls to add sparkle and colour to our genuine silver and gold jewellery. These originate from material categories commonly used in the jewellery industry - diamonds, gemstones, organic gems and man-made stones.