It's the Easter holidays, which means for most parents having to spend more money on days out. However the UK is full of fun yet affordable events to enjoy with all the family this Easter?
We've hunted down four activities to keep the kids entertained on a budget, do you have any more suggestions?
1. Planting and gardening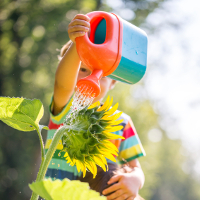 Aside from tidying up the garden, planting new seeds in April is a great idea. While you can sow some directly into the soil, kids love it if you plant seedings in small pots and then place them in a sunny spots in the kitchen. In sunshine these seedlings tend to grow rapidly (thereby keeping your kids attention for 2 weeks) and if you regularly replant can grow into great plants for the summer.
If you don't have green fingers, allowing the kids to go wild in the garden (in the name of tidying up what's happened over winter), not only does you a favour but pretty much tires them out. Better still give them a patch of garden each and let them tidy it up and decide what they want their patch to be.
See all gardening retailers you can get money back when buying from KidStart here.
2. Check out your local museum
Many museums around the UK are free and offer lots of free holiday activities for kids. There are great experiments for kids at the Museum of Science and Industry in Manchester, and a range of fun expositions at the Museum of Childhood in London.
3. Take a look a Netmums
They have a great page that lists all the free places to go to with kids all over the UK. The list is voted for by parents so you know it's good for kids, and includes everything from parks with fantastic free facilities to stately homes, blissful beaches to roam around on to rugged woodland to explore. Top tips include Blaise Castle in Bristol, and Alexandra Palace in London.
Don't forget to book your train or bus journeys with KidStart and you will get up to 4% of your spending back.
4. Do something creative indoors
For literally hours of fun paint a kid's bedroom wall with chalkboard paint let it dry and then let them go wild drawing to their hearts content. Or make a kids den with blankets, cushions, tables and chairs. Or have a themed day say pirates or monsters, robots or princesses. Stay in role for the whole day and create games and activities around your theme.
You can buy everything you need from all these retailers and get up to 6% back for your kids with KidStart.
Read our article filled with ideas to keep the kids entertained during half term here.
Those are just some of the ideas Kidstart mums and dads have come up with so far. But let us know your best idea for entertaining kids so we can spread the word.