Great Little Trading Co. (GLTC) are a small, independent online children's retailer that design and make stylish, practical products that young families need in their homes every day.
GLTC's unique product range includes an award-winning collection of play now, love-forever toys. They're made from responsibly sourced wood, offer unlimited hours of imaginative, educational fun, and are long-lasting so they can be passed on to siblings as well as the next generation.
Eco and budget conscious parents will be pleased to hear GLTC believe you should buy wood, buy once, that's why they design toys that are better for the planet, better for your children, and better for your bank balance.
With your little savers-in-the-making in mind, here are their top toys to help children develop their numeracy skills through play.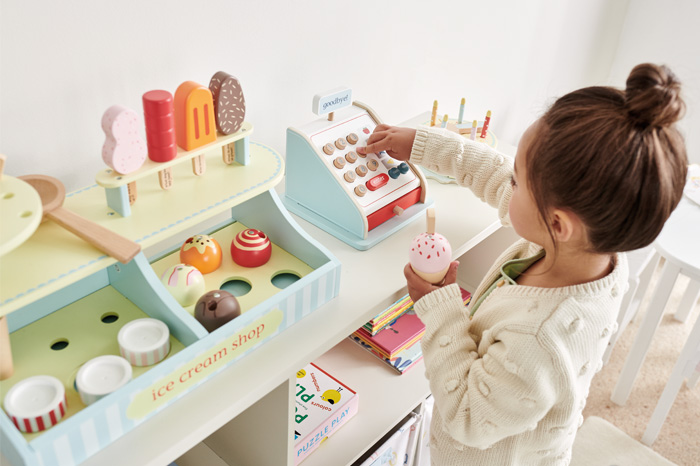 Let's play shops!
GLTC's range of play shops and cafes encourage children to try a new venture any day of the week. Combine one with a wooden till and realistic-looking play money, and children will reap the benefits of learning through role play.
Acting out real-world scenarios, such as counting their inventory, taking orders, totalling up prices, and handling play money, will help them develop their numerical skills. To add even more play value, GLTC also offer a selection of free printable resources to use alongside their playsets. From open and closed signs and colouring sheets to price lists and simple maths worksheets, their activity packs are designed to engage both pre-schoolers and primary aged children.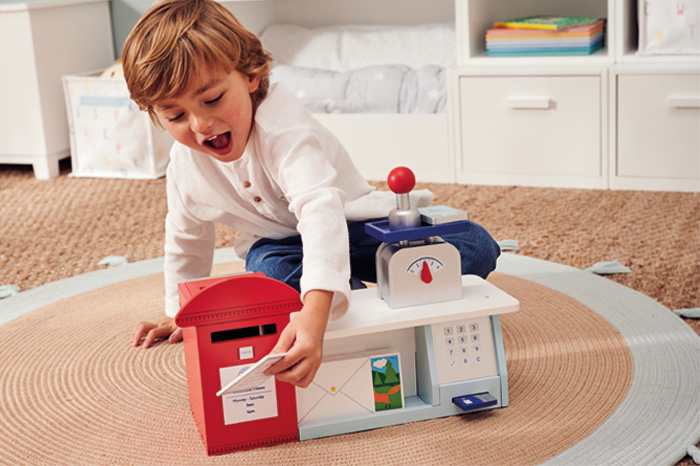 Signed, sealed, delivered
Just opened – the First Class Toy Post Office. Who's in charge? Your little ones! This charming role play toy teaches children about the ins and outs of the postal service; how to weigh and measure items, what postage means, and the places in the UK and around the world an item can travel to.
Whether they're behind the counter or playing the customer there's plenty to do – weighing parcels, sticking on Velcro stamps, or using the chip and pin to pay for postage. When it's time to change roles and deliver all the mail to the lucky recipients, they can check the collection times on the post box and read the postal addresses to decide their route.
As they try out these different roles, their numeracy skills will be put to the test, plus they'll get to work on their literacy skills, too. Win-win!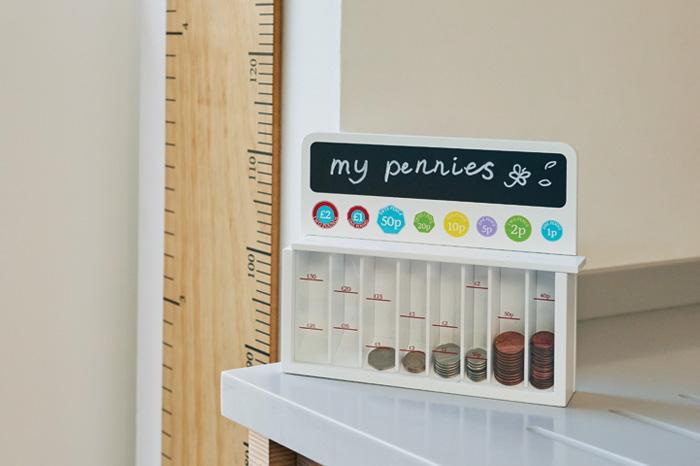 Count the pennies
Top up your children's pocket money and their numeracy skills with the Count the Pennies Money Box. Not only is it a fun way to encourage your children to save from an early age, it's also a great way to introduce them to the concepts of money and coins – an invaluable lesson in preparation for school.
If you already use the Beanstalk app*, then using a money box in addition to this is a brilliant idea to get your children involved in contributing their own money, too. Once they've racked up at least £10, you could pay the physical money into your own account, then make a transfer to your child's Beanstalk account. Watch as their face lights up when they see their contribution pop up in their account! The money saved in Beanstalk accounts cannot be accessed until your child turns 18.
We hope these ideas have inspired you to kick-start your child's numeracy journey through play! Discover GLTC's full range of fun and educational wooden toys online today and earn money back on your purchase when you sign up to KidStart.
To earn 3.5% back with KidStart, make sure you click through from the Great Little Trading Co's retailer page on the KidStart website before making any purchases.
*Please note: Capital at risk. As with all investment the value can go up as well as down.