At KidStart, we know that being a parent is stressful enough, so we've done our best to make child savings as easy as possible to understand.
We have put together a simple overview to long-term child savings options to help you find the right account for your child(ren).
If you are a KidStart member, you can transfer your KidStart savings into any bank or building society account, however you may want to consider opening a KidSave account specifically for your child / children.
If you're a dab hand at all of this, check out which Child Savings providers KidStart work with. Otherwise, please keep reading.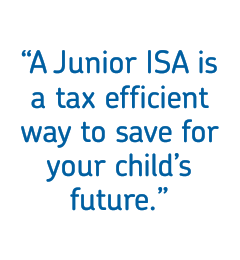 CTFs, ISAs and OAA (Other Annoying Acronyms)
Once upon a time, there was something called a Child Trust Fund (CTF), which you may have heard of. It's a long-term virtually tax-free savings account for children born between 1st September 2002 and 2nd January 2011.
As of November 2011, the Junior Individual Savings Account (ISA) stepped in to fill the shoes of the CTF for child savings. Junior ISAs also offer virtually tax-free savings for your children, as long as they are under 18, live in the UK and do not already have a CTF (though you can transfer a CTF into a JISA).
The money that you, or anyone else, put into your child's Junior ISA belongs to the child, but can't be taken out until they are 18. Child savings in a Junior ISA work like any regular ISA account: grandparents, long-lost cousins, kindly strangers, friendly companies like KidStart and anyone else can transfer money into them until the annual limit is reached.
Cash Junior ISAs and Stocks and Shares Junior ISAs
There are two types of Junior ISA:
Cash Junior ISAs where you get paid a rate of interest as per a normal savings account. Watch out for high introductory rates that fall after the first year – you may need to keep moving it to keep a high rate of interest.
Stocks and Shares Junior ISAs where your child's savings are invested and the value goes up or down depending on the performance of the stocks and shares associated with the specific ISA. This may be less risky than you think as the investment is over a long period (18 years).
Your child can have both of the above (or just one or the other), but the annual limit applies as a total across any Junior ISAs that your child might hold.
Savings accounts that offer KidStart savings boosters
Please view our KidStart Savings Guides for more detailed information about child trust funds, Junior ISAs and family budgeting.