Prince George is the epitome of cuteness standing barefoot on a large wooden swing, but it was a particular detail that caught our eye in his third birthday portrait.
The swing on which the future King proudly stood was engraved with his parents' names 'William and Catherine'. The beautiful, personalised swing added to how gorgeous George looked on his third birthday.
A wonderful surprise
In fact,
The Oak and Rope Company
was commissioned to make this swing as a gift for Prince William and Kate's wedding in 2011. Even though they were just starting out and really excited to be commissioned for such a special occasion. 
The Oak and Rope Company
made the conscious decision not to discuss this with anybody. Jeanette Aurdal Nieman, the MD said "It was a personal present, and we thought it deserved to remain a private matter." So it came as a wonderful surprise when she received a call, telling her their swing is featured in George's birthday portraits.
The Oak and Rope Company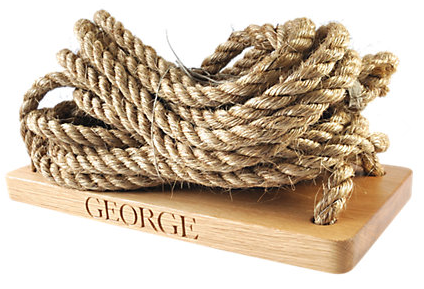 The Oak and Rope Company
creates beautiful gifts from sustainable materials. Hand carved at their workshop in Kent. These solid oak designs can be personalised. Adding warmth and wit to home interiors. Making them the ideal present for celebrating something, or someone special.
Buy a swing fit for royalty
The Oak and Rope company beautifully hand-crafted garden swings come with the engraving of your choice. You can find  them at
Not On The High Street (3% saving using KidStart)
. Also available at 
John Lewis (1.5% KidStart savings)
. Get the look for less with this
personalised solid oak swing seat from Etsy (5% KidStart savings).
  Also this
children's handmade personalised solid oak tree swing from Amazon (2% KidStart savings)
.
The wealthy clientele
Who commissioned the royal swing is still a mystery. Clearly such discretion together with the high calibre of their work has led to expansion. The Oak and Rope company now export their products around the world. But all that Jeanette will admit of her top of society clients is: "Royal patrons and famous bottoms are sitting on our swings and benches."
Related Article
Get the Royal look!
---