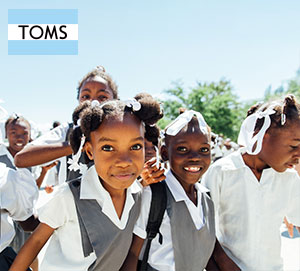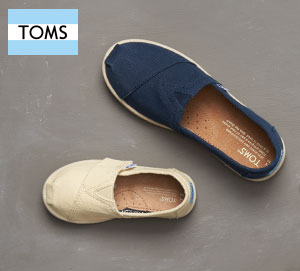 With every product you purchase, TOMS will help a person in need.
TOMS will match every pair of shoes purchased with a pair of new shoes given to a child in need. One for One™.
In addition to the alpargata-inspired Classics, TOMS offers a variety of footwear styles for men, women and kids. From everyday men's shoes like Paseos to fun and flirty Strappy Wedges, TOMS are passionate about both the fashion and compassion they offer.
TOMS eyewear is inspired by iconic and vintage style, from wayfarer-inspired Classics to pilot frames to historic oversized lenses, and every purchase provides customers the opportunity to restore sight to a person in need.
TOMS have already given 35 million pairs of shoes to children in need, teaching 35 million lessons.
250,000 have had their sight restored through purchases of TOMS® Eyewear since 2011.
Please note
All purchases must be completed wholly online after clicking on the link above.
KidStart Savings may not be paid on VAT or delivery.
KidStart Savings may not be paid if you use a discount code at the checkout other than those provided by KidStart.
Some purchases may not be eligible for KidStart Savings such as gift cards and vouchers.